Welcome to our online listing service for optometric employment and business opportunities, externship placements, and equipment sales.
Association members and optometric students may post ads free of charge. To submit an ad, email mao@mb-opto.ca. Be sure to include a title, the full text of your ad and contact information for replies to your ad (150 words or less).
Non-members and the general public may post ads for a cost of $105.00 ($100 +GST) per ad, which includes a one-time posting in our member newsletter, the MAO Minute, and a 3-month posting on Optomart. To submit an ad, contact us at mao@mb-opto.ca with the title, full text of your ad and contact information for replies to your ad. The payment of $105.00 can be made by online banking or by cheque to Manitoba Association of Optometrists, 217 - 530 Century Street, Winnipeg, MB, R3H 0Y4. Contact our office for details on how to make an online banking payment (please note we cannot accept credit cards or Interac e-transfers).
---
---
---
Practice Opportunities Available/Wanted
---
---
Part Time Associate Needed
Added November 24, 2022
Eyeris Eyecare in Winnipeg is looking for a part time associate optometrist. A healthy work-life balance is important to us so we are excited to offer 2-3 days/week with flexible days & hours and no stat holidays. Our office is a good mix of routine refractive care as well as complex disease management. To set you up for success we have a user friendly EHR, Auto-Refractor, iCare, retinal imaging, OCT and Visual Field. Our attentive staff is friendly, dedicated and keep the schedule booked out many weeks in advance. If you're interested in joining our team, please email dr.encarnacao@eyeriseye.com.
---
Full or Part Time Optometrist Opportunity
Added September 26, 2022
Hiring full-time/part-time optometrists at busy independent optometry practice in Costco. Full pre-testing (AR, NCT, Digital Retinal Imaging, OCT, etc) by experienced staff. Please contact Dr. Gary Du at 204-804-8270 (mobile) or duguoy0315@gmail.com.
---
Part-Time Optometrist Needed
Updated October 12, 2022
ElmView Eyecare is looking for a part-time optometrist to work at a busy neighborhood clinic in East Kildonan starting as early as December 2022. We are looking for 1-3 days a week and offer attractive compensation. We can be flexible with start date and which days worked but there are no evenings and rare weekends. We are a full scope practice with a busy dispensary and friendly environment. If interested or for more information, please reach out to Dr. Averi Van Dam at agvandam@gmail.com or phone 204-898-6603.
---
Full or Part Time Optometrist 
Updated December 2, 2022
See Eye Clinic is a progressive, growing practice in the North part of Winnipeg. We are looking for a full-time or part-time optometrist. The practice has multiple exam lanes and equipment including NCT, AR, Zeiss OCT, Optomap Retinal Imaging, AdaptDc, Topcon Myah, Corneal Topographer, Humphrey Visual Field Analyzer and Pachymeter. The successful applicant must be friendly and reliable. Visit our website www.seeeyeclinic.com to get to know us a little better. IF interested, contact Dr. Shannon Smith-Bodiroga at Seeeyeclinic@gmail.com or via phone (204) 951-1237.
---
Associate Optometrist Position
Updated November 30, 2022
Dr. Mani Chhibba is looking for a part-time associate to join her practice . Minimum term to the end of December 2023 and we would love for the right optometrist to continue on thereafter. Offices are located in South St. Vital and Southdale. Autorefractor, Zeiss OCT with retinal imaging and Humphrey visual field all on site, along with use of electronic medical records. Flexible work environment and attractive compensation split are available. New grads welcome. Please contact mchhibbaod@gmail.com.
---
Maternity Coverage Needed
Updated November 25, 2022
Dr. Ashley Britton is looking for an optometrist to cover maternity leave from December 2022 to April 2023. Immediate start available. The office has a Humphrey visual field, Zeiss retinal camera and OCT. The office is out of Linden Ridge Eye Care. Please email dr.ashleybritton@gmail.com for more information.
---
Associate Optometrist
Updated November 30th, 2022
Position available for 3-4 days/week. Busy practice with OCT, Zeiss Clarus widefield retinal camera and VF. Please contact Dr. Kaplan at 204-292-1587 or email kapjoss@hotmail.com to inquire or if you have any questions.
---
Maternity Coverage Needed
Added May 31, 2022
Village Optical is a full-service, independent optometry clinic with a great team of six ODs and experienced staff located in the heart of St. Vital. We are seeking a friendly associate with a passion for excellent patient care to cover a maternity leave from September 2022 until March 2023, with potential to continue thereafter. We are able to offer 2-4 days per week for the duration of the term. We have everything you need to practise full scope optometry! Our clinic is equipped with OCT, VF, and two pre-test lanes with fundus imaging, FDT, iCare and AR. For those with interest in specialty contacts or dry eye, we also have a corneal topographer with dry eye diagnostic capabilities. Please visit villageoptical.ca to learn more about us and contact tanyadillon@hotmail.com for more information.
---
Part-time Optometrist in Winnipeg
Updated November 30, 2022
nv eye care eye wear is looking for a part-time optometrist. Flexible hours available. Please contact Dr. Nadine Shelton at nsheltonod@gmail.com.
---
Optometrist Required (Full/Part Time) in Brandon
Updated November 30, 2022
1st Eye Care is looking for an optometrist to work at this busy practice. The clinic has new models of Zeiss OCT, Humphrey Visual Field Test, and Retinal Camera. In addition there is a full-service lens lab next to our facility. We offer a supportive environment that allows for an independent optometrist to have a high level of autonomy within the practice, and offer a lucrative competitive earning package and flexible work schedule. Please email resume to Brian Dressler at dresslerbrian@hotmail.com or call 204-724-6960.
---
Associate Optometrist Position in Winnipeg
Updated May 18, 2022
Waverley Eye Care Centre is an established, busy independent eye care clinic with two locations in Southwest Winnipeg - Lindenwoods (Waverley Eye Care Centre) and Bridgwater (Eyes on Bridgwater). We are excited to offer 3-4 days per week for an associate optometrist. The practices are fully-equipped and include NCT, iCare, AR, OCT, Optomap retinal imaging, corneal topographer, Humphrey visual field analyzer, pachymeter, axial length biometry, dry eye analysis and a large optical with onsite finishing lab. We offer full scope optometry for all patients and in addition to providing comprehensive eye exams, our clinic(s) also provide glaucoma management, myopia management, low vision care, vision and sports vision therapy/rehabilitation, dry eye disease and specialty contact lenses. We are looking for a friendly optometrist to become a long-term member of our team. Please contact Dr. Selena Friesen, selena@eyecanada.ca or Dr. Michael Nelson, docs@eyecanada.ca for more information.
---
---
---
Equipment Sales/Wanted
---
---
WANTED
Updated December 2, 2022
AO-type projector capable of being attached to a floor projector stand. Please contact Dr. Steven Mintz at eyetoeyembca@hotmail.com
---
Vintage Equipment
Updated December 2, 2022
Transcona Optical is moving to a new location in Transcona. While moving, they came across some old (mid 20th century) equipment that is no longer of any use. It would be a shame to throw this equipment into the garbage, so Dr. Steve Mintz is trying to find a home for this equipment. He will be contacting the Transcona Museum and the two Canadian schools of optometry (each of which have an optometry museum) to see if they have room for some of these items. If anyone knows a person or location who would be able to take this equipment, please let him know. With this in mind, if any optometrist is planning a trip to either Waterloo or Montreal and is willing to transport the equipment there, please also contact him. Or, if anyone knows a student who is driving to an optometry school, he would appreciate the opportunity to talk to them about delivering the equipment. You can contact Dr. Steve Mintz at eyetoeyembca@hotmail.com or 204-799-8095.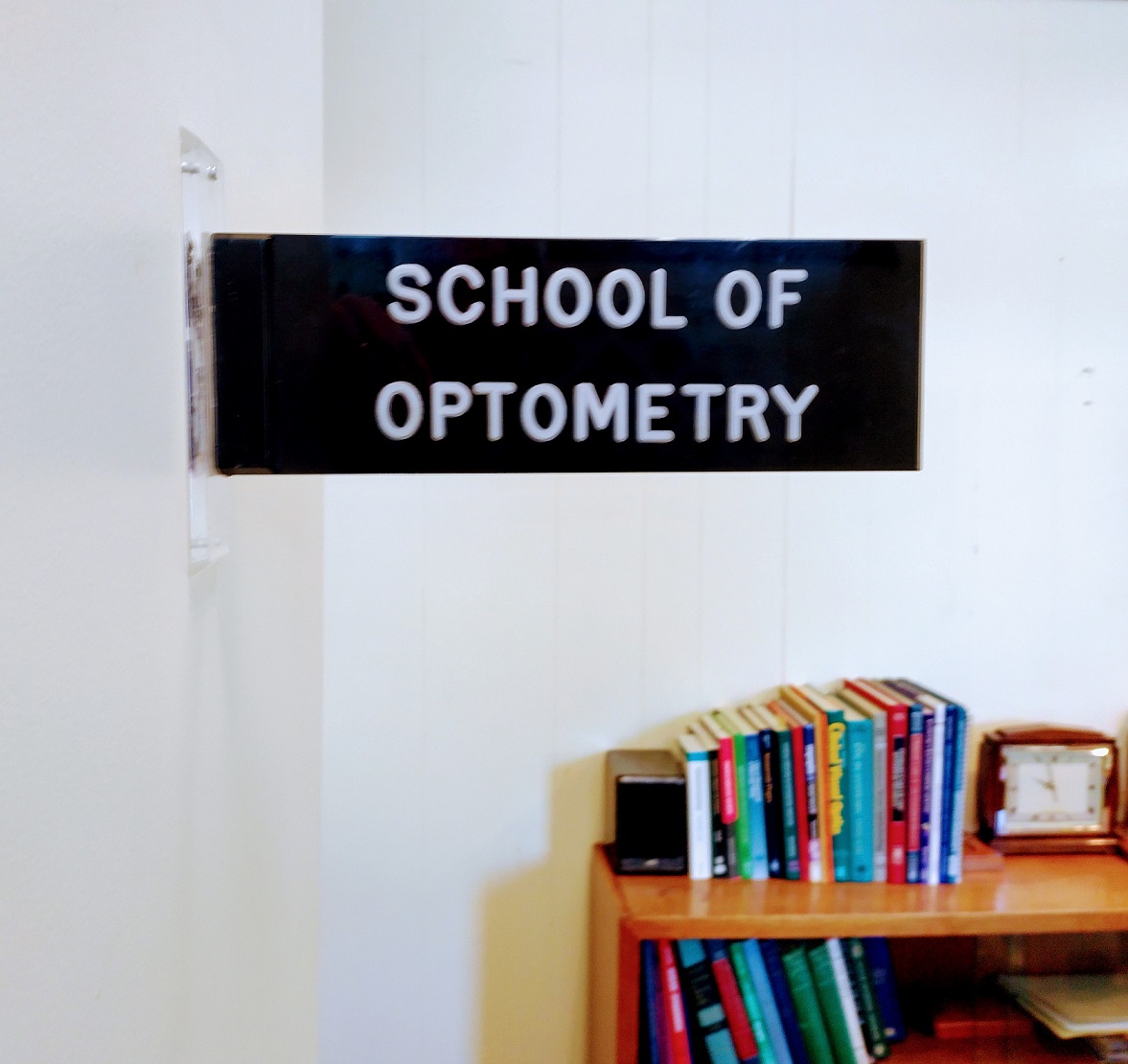 ---
---
For Sale
Added September 29, 2022
Authentic School of Optometry sign that has been missing from U of Waterloo for about 50 years. Comes with mounting hardware and a very tidy 2-3 day/week satellite practice. Contact Gerard Murray, gm@nvoptical.ca, 204-867-7858.
---
Saskatoon Practice for Sale
Added September 26, 2022
In 2021, EBITDA was $371,897 and Gross was $818,975 while working 3.5 days per week with 6 weeks off. This is a full dispensing practice with an attractive and efficient layout. It has high visibility in a high traffic area. The practice is a cost share with one other Optometrist and 4 exam lanes. The incoming Optometrist would purchase 2 full lanes and half of all shared equipment as well as half of the inventory of frames and contact lenses. The office is paperless using visualeyes for exams, dispensing and scheduling. Shared equipment includes Zeiss Clarus, Zeiss OCT, IOL Master (for myopia management), Nidek Ark, Nidek NCT, Humphry Filed Analyzer and FDT. If you would be interested in owning a progressive Optometry practice in a beautiful city please contact saskatoonoptometry@gmail.com. All inquiries will be kept confidential.
---
Practice for Sale in BC
Added June 29, 2022
A well-established, full-scope private Optometry practice, with a large, loyal patient base. The clinic serves one of the fastest growing communities in BC's Okanagan Valley, surrounded by lakes, orchards, ski hills, golf courses, wineries, biking and hiking trails. Contact clinic4sale22@gmail.com. All inquiries in confidence.
---
Optometry Practice for Sale 
Updated December 2, 2022
Optometry practice for sale in Winnipeg, MB. Contact Dr. Tom Mulhall, optomuldokt@shaw.ca. Information on request.
---
Practice for Sale in Northern Manitoba
Updated August 2, 2022
Looking for an optometrist wanting to own a well established office with a large drawing area. Great dedicated staff. Flin Flon is a friendly community with an active arts scene. Free of the city hustle and bustle. Enjoy year round outdoor activities in one of the most beautiful areas in Canada. Practice has all the essentials and has room for expansion. 
Please contact jomark@mymts.net for more information.
---
---
---
Optometric Staff Positions
---
---
Optician/Optical Dispenser Required
Updated July 28, 2022
20/20 Eyecare is now hiring a part-time, experienced Optician/Optical Dispenser for 3 days per week. We are an independent, family-oriented optometry office located in St. Vital and have been providing eye and vision care to our local community and surrounding areas for over 20 years. If you have a strong drive to provide exceptional service, a passion for eyewear and styling others, we want to work with you! Click here for details. To apply, please email your resume to 2020eyecare.careers@gmail.com to the attention of the Office Manager. We thank all candidates for their interest, however, only candidates selected for interviews will be contacted.