Welcome to our online listing service for optometric employment and business opportunities, externship placements, and equipment sales.
Association members and optometric students may post ads free of charge. To submit an ad, email mao@optometrists.mb.ca. Be sure to include a title, the full text of your ad and contact information for replies to your ad (150 words or less).
Non-members and the general public may post ads for a cost of $105.00 ($100 +GST) per ad, which includes a one-time posting in our member newsletter, the MAO Minute, and a 3-month posting on Optomart. To submit an ad, contact us at mao@optometrists.mb.ca with the title, full text of your ad and contact information for replies to your ad. The payment of $105.00 can be made by online banking or by cheque to Manitoba Association of Optometrists, 217 - 530 Century Street, Winnipeg, MB, R3H 0Y4. Contact our office for details on how to make an online banking payment (please note we cannot accept credit cards or Interac e-transfers).
---
---
---
Practice Opportunities Available/Wanted
---
---
Optometrist Opportunity
Added March 14, 2023
We are looking for an Optometrist to join our team! We are a busy multi-optometrist practice located in a multi-discipline medical building in downtown Winnipeg. Our location provides many opportunities for co-management with medical specialists. Our office is bright and inviting and our examination lanes are furnished with state of the art equipment. We have in office fundus imaging, anterior segment imaging, OCT, Visual Field, pachymetry, and iCare tonometry. We would like to find an Optometrist for 2-3 days of patient care a week. Our office culture is a positive team environment and our patient demographics include pediatric, family eye care and medical optometry. Please contact Carmen Recksiedler at visualeoptometry@gmail.com or call the office at 204-788-5794. 
---
Optometrist Associate Position
Added March 8, 2023
Optometry Associated needed to join a growing 3 office practice. Access to AR, NCT, OCT, Zeiss Clarus widefield retinal cameras and Threshold VF. Work anywhere from one to five days a week. Please email Dr. Kaplan at kapjoss@hotmail.com or call 204-292-1587 to discuss. 
---
Associate Optometrist Position
Added March 7, 2023
Clear Eye Care is looking for an associate to join their team at two established locations. We're a busy full scope clinic that is happy to offer 1-4 days per week with very flexible hours. Our offices are located inside Grant Park Mall and Garden City Mall; the two offices use Revolution EMR and have well trained dedicated staff. Both clinics are fully equipped with Topcon Maestro OCT combination retinal imaging, Humphrey Visual Field Analyzer, NCT, pachymeter, and autorefraction. We love providing quality care to patients of all ages and are happy to welcome you to the squad. If interested, please contact Dr. Edward Kundzicz via edward.kundzicz@gmail.com or 204-557-3761.
---
Full-Time Optometrist Opportunity
Added March 3, 2023
FYidoctors Winkler has an amazing opportunity for a full-time Optometrists to join our clinic in Winkler, MB. This opportunity also allows for significant flexibility. You will have the opportunity to select the number of hours and says you want to work alongside determining clinic hours. The new OD will also have the opportunity to choose the type of equipment required for the location. This will allow you to define what you want out of this opportunity! Minimum $200,000, retention bonus, relocation cost allowance, forgivable loan program available. FYidoctors is the fastest growing Doctor Owned eye care provider in Canada!
Contact Adam Bullen at adam.bullen@fyidoctors.com or visit http://fyidoctors.com/global/en/c/optometrists-jobs
---
Part Time Optometrist Opening
Added January 26, 2023
Vision Group Canada/Lasik MD has a part-time optometrist opening for our LASIK MD Winnipeg. If interested, please email your resume to Serena Machado, Recruiter, at smachado@visiongroupcanada.ca . We are looking for a dedicated and patient-focused Optometrist who is interested in joining our refractive surgical center! This position would be part-time (16hrs/week), between 8am to 4pm, we are flexible to various preferences. Why be part of the Vision Group family?  Vision Group has over 50 clinics across North America. You will be working alongside MD's, diverse teams, and renowned eye health experts. This is an opportunity to expand your network and to explore a wide variety of things in private practice! Develop and utilize your skills in a dynamic and professional environment that promotes continued learning. Want to learn more about us? Please visit http://www.visiongroupcanada.ca/
---
Full or Part Time Optometrist Position 
Added January 20, 2023
Eye GO mobile is expanding our mobile services to include eye examinations, and we are looking to partner with an optometrist who is looking for part time or full time work. We have local and rural mobile opportunities to assist a number of needs in our community. Eye GO is also expanding our Winnipeg Square location to offer eye exams and we are looking for an optometrist who would like to join part-time with the option to grow to full-time. Please contact Christine at 204-793-9346 ex 4 for detail. (email info@eyego.ca) www.eyego.ca
---
Associate Optometrist Position 
Added January 11, 2023
Waverley Eye Care Centre is an established, busy independent eye care clinic with two locations in Southwest Winnipeg - Lindenwoods (Waverley EyeCare Centre) and Bridgwater (Eyes on Bridgwater). We are excited to offer 3-5 days per week for an associate optometrist. The practices are fully-equipped and include NCT, iCare, AR, OCT, Optomap retinal imaging, corneal topography, Humphrey visual field analyzer, pachymeter, axial length biometry, dry eye analysis and large optical with onsite finishing lab. We offer full scope optometry for all patients and in addition to providing comprehensive eye exams, our clinics also provide glaucoma management, myopia management, low vision care, vision and sports vision therapy/rehabilitation, dry eye disease and specialty contact lenses. We are looking for a friendly optometrist to become a long-term member of our team. Please contact Dr. Selena Friesen selena@eyecanada.ca or Dr. Michael Nelson docs@eyecanada.ca for more information. 
---
Part-time Associate Needed 
Added December 14, 2022
Dr. Blessing Akhidime is looking for a part-time associate to join her practice. Its a busy Eye Clinic located in Polo Park Winnipeg, equipped with AR, NCT, VF, Digital Retinal imaging Etc. Flexible work hours and attractive compensation are available and you get to work with friendly and dedicated staff. If interested or for more information, please contact Dr. Blessing Akhidime at  blessingakhidime@gmail.com or 204-588-4459.
---
Seeking New Associate  
Added December 14, 2022
Transcona Optical is looking for a full or par-time associate a part-time associate to join our team who can help us grow our practice. We have been in business for more than 50 years and have a newly renovated office and dispensary. You must be hard working and passionate about Optometry and building relationships with our patients. Our practice has a friendly work environment, with experienced support staff and flexible working environment. We have the latest in pretesting equipment including Zeiss OCT, Monaco Optomap, FDT, VF and iCare tonometry. All levels of experience considered. Salary to be discussed in person. Contact: alissaboroditsky@hotmail.com . 
---
Part Time Associate Position
Added December 6, 2022
Village Optical is a full-service, independent Optometry clinic with a great team of 6 ODs and experienced staff located in the heart of St. Vital. We are seeking a friendly associate with a passion for excellent patient care for a part-time position (with potential to increase to full-time). We have everything you need to practise full scope optometry! Our clinic is equipped with OCT, VF, and two pre-test lanes with fundus imaging, FDT, iCare, and AR. For those with interest in speciality contacts or dry eye, we also have corneal topographer with dry eye diagnostic capabilities and offer IPL and RF treatments. Please visit www.villageoptical.ca to learn more about us and contact loewen.erin@gmail.com for more information. 
---
Part Time Associate Needed
Added November 24, 2022
Eyeris Eyecare in Winnipeg is looking for a part time associate optometrist. A healthy work-life balance is important to us so we are excited to offer 2-3 days/week with flexible days & hours and no stat holidays. Our office is a good mix of routine refractive care as well as complex disease management. To set you up for success we have a user friendly EHR, Auto-Refractor, iCare, retinal imaging, OCT and Visual Field. Our attentive staff is friendly, dedicated and keep the schedule booked out many weeks in advance. If you're interested in joining our team, please email dr.encarnacao@eyeriseye.com.
---
Full or Part Time Optometrist Opportunity
Updated January 12, 2023
Hiring full-time/part-time optometrists at busy independent optometry practice in Costco. Full pre-testing (AR, NCT, Digital Retinal Imaging, OCT, etc) by experienced staff. Please contact Dr. Gary Du at 204-804-8270 (mobile) or duguoy0315@gmail.com.
---
Full or Part Time Optometrist 
Updated December 2, 2022
See Eye Clinic is a progressive, growing practice in the North part of Winnipeg. We are looking for a full-time or part-time optometrist. The practice has multiple exam lanes and equipment including NCT, AR, Zeiss OCT, Optomap Retinal Imaging, AdaptDc, Topcon Myah, Corneal Topographer, Humphrey Visual Field Analyzer and Pachymeter. The successful applicant must be friendly and reliable. Visit our website www.seeeyeclinic.com to get to know us a little better. IF interested, contact Dr. Shannon Smith-Bodiroga at Seeeyeclinic@gmail.com or via phone (204) 951-1237.
---
Associate Optometrist Position
Updated November 30, 2022
Dr. Mani Chhibba is looking for a part-time associate to join her practice . Minimum term to the end of December 2023 and we would love for the right optometrist to continue on thereafter. Offices are located in South St. Vital and Southdale. Autorefractor, Zeiss OCT with retinal imaging and Humphrey visual field all on site, along with use of electronic medical records. Flexible work environment and attractive compensation split are available. New grads welcome. Please contact mchhibbaod@gmail.com.
---
Associate Optometrist
Updated November 30th, 2022
Position available for 3-4 days/week. Busy practice with OCT, Zeiss Clarus widefield retinal camera and VF. Please contact Dr. Kaplan at 204-292-1587 or email kapjoss@hotmail.com to inquire or if you have any questions.
---
Part-time Optometrist in Winnipeg
Updated November 30, 2022
nv eye care eye wear is looking for a part-time optometrist. Flexible hours available. Please contact Dr. Nadine Shelton at nsheltonod@gmail.com.
---
Optometrist Required (Full/Part Time) in Brandon
Updated November 30, 2022
1st Eye Care is looking for an optometrist to work at this busy practice. The clinic has new models of Zeiss OCT, Humphrey Visual Field Test, and Retinal Camera. In addition there is a full-service lens lab next to our facility. We offer a supportive environment that allows for an independent optometrist to have a high level of autonomy within the practice, and offer a lucrative competitive earning package and flexible work schedule. Please email resume to Brian Dressler at dresslerbrian@hotmail.com or call 204-724-6960.
---
---
---
Equipment Sales/Wanted
---
---
WANTED
Updated December 2, 2022
AO-type projector capable of being attached to a floor projector stand. Please contact Dr. Steven Mintz at eyetoeyembca@hotmail.com
---
Vintage Equipment
Updated December 2, 2022
Transcona Optical is moving to a new location in Transcona. While moving, they came across some old (mid 20th century) equipment that is no longer of any use. It would be a shame to throw this equipment into the garbage, so Dr. Steve Mintz is trying to find a home for this equipment. He will be contacting the Transcona Museum and the two Canadian schools of optometry (each of which have an optometry museum) to see if they have room for some of these items. If anyone knows a person or location who would be able to take this equipment, please let him know. With this in mind, if any optometrist is planning a trip to either Waterloo or Montreal and is willing to transport the equipment there, please also contact him. Or, if anyone knows a student who is driving to an optometry school, he would appreciate the opportunity to talk to them about delivering the equipment. You can contact Dr. Steve Mintz at eyetoeyembca@hotmail.com or 204-799-8095.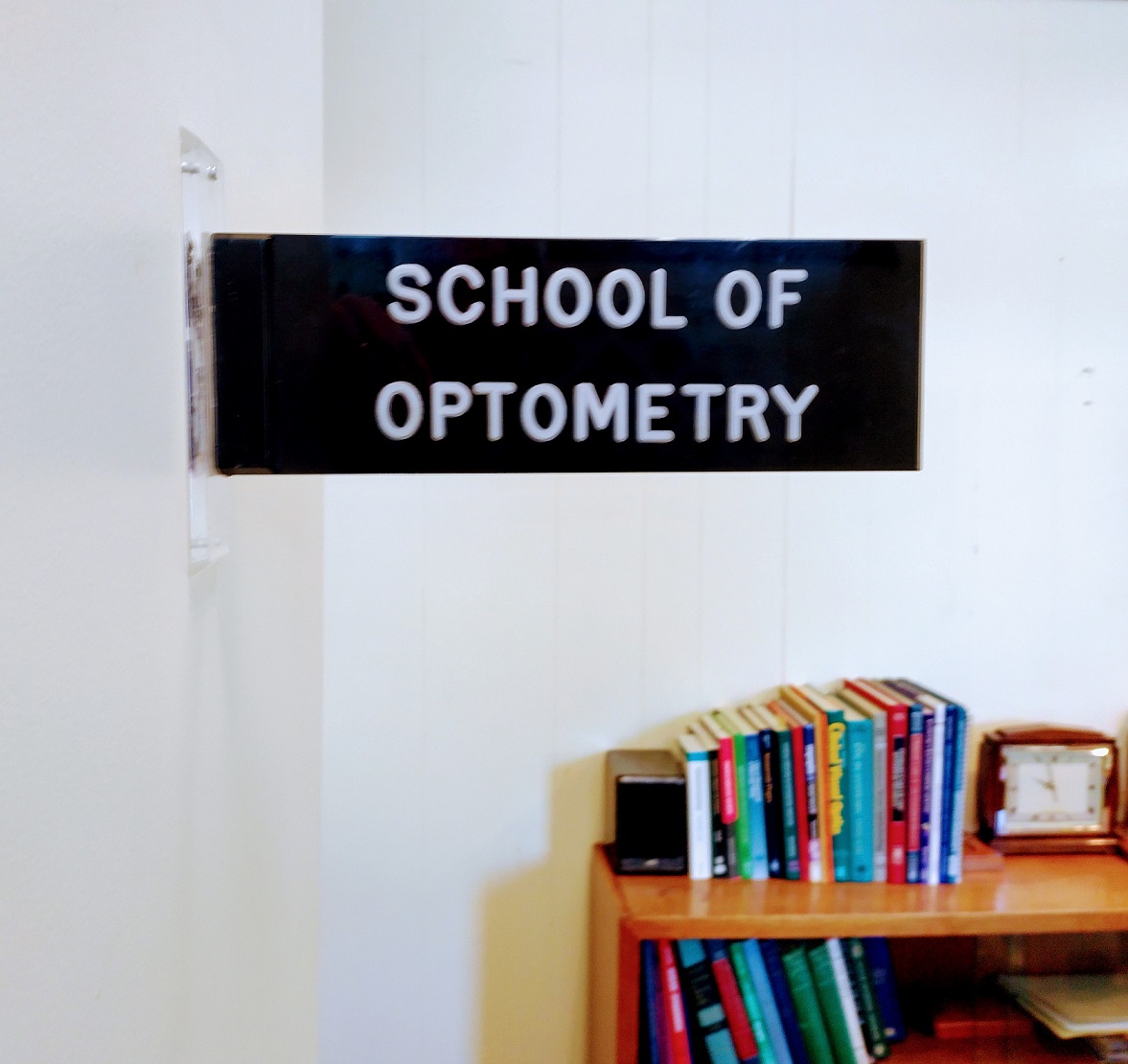 ---
---
For Sale
Added September 29, 2022
Authentic School of Optometry sign that has been missing from U of Waterloo for about 50 years. Comes with mounting hardware and a very tidy 2-3 day/week satellite practice. Contact Gerard Murray, gm@nvoptical.ca, 204-867-7858.
---
Practice for Sale
Added March 1, 2023
Successful part time practice for sale in Neepawa, one of Canada's fastest growing towns. Growing patient base. Two exam rooms, NCT, Perimeter, Fundus Camera, Corneal Topographer. 
Contact Gerard Murray: gm@nvoptical.ca or 204-867-7858.
---
Optometry Practice for Sale 
Updated December 2, 2022
Optometry practice for sale in Winnipeg, MB. Contact Dr. Tom Mulhall, optomuldokt@shaw.ca. Information on request.
---
Practice for Sale in Northern Manitoba
Updated August 2, 2022
Looking for an optometrist wanting to own a well established office with a large drawing area. Great dedicated staff. Flin Flon is a friendly community with an active arts scene. Free of the city hustle and bustle. Enjoy year round outdoor activities in one of the most beautiful areas in Canada. Practice has all the essentials and has room for expansion. 
Please contact jomark@mymts.net for more information.
---
---
---
Optometric Staff Positions
---
---
Optician/Optical Dispenser Required
Updated July 28, 2022
20/20 Eyecare is now hiring a part-time, experienced Optician/Optical Dispenser for 3 days per week. We are an independent, family-oriented optometry office located in St. Vital and have been providing eye and vision care to our local community and surrounding areas for over 20 years. If you have a strong drive to provide exceptional service, a passion for eyewear and styling others, we want to work with you! Click here for details. To apply, please email your resume to 2020eyecare.careers@gmail.com to the attention of the Office Manager. We thank all candidates for their interest, however, only candidates selected for interviews will be contacted.